The wooden workshop contains the machines needed to accomplish most things in woodworking.
If you have completed the safety and introcourse with us, you are allowed to use the hand tools on the tool board and the work area below. A hot tip, however, is to use them in the Assembly Hall as the central vacuum cleaner including electrical outlets in the wooden workshop is not possible to use unless someone with wood competence works in the workshop then.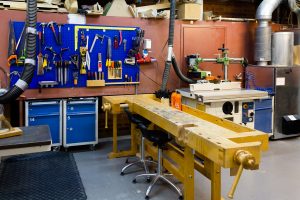 ---
With a completed wooden course and examination, you can use the machines below:
Cape and Gersåg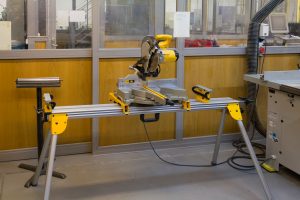 To cut up the coarse planks that we stock used this saw, even to cut the angles, it is very smooth.
Bandsaw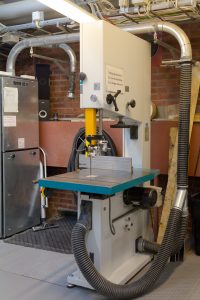 For sawing on freehand, cleavage and faster sawing, this bandsaw is very useful.
Benchtop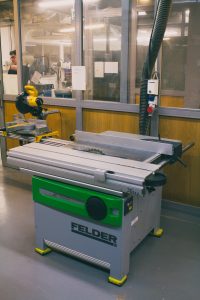 For precise sawing, the table saw is almost indispensable, it gives a nice surface and is very smooth if you want to cut to many alike pieces.
Rich Planer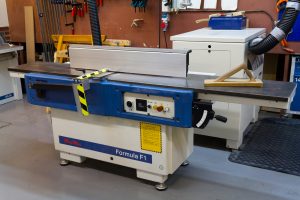 To create two flat and orthogonal sides, this planer is used. To create a squat, this machine is the first step in the process and creates a very fine surface.
Thicknesser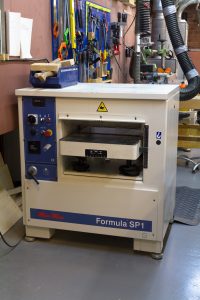 To make two sides parallel, it is this machine to turn to, it is also exemplary in reducing the thickness to a very precise measure.
Sander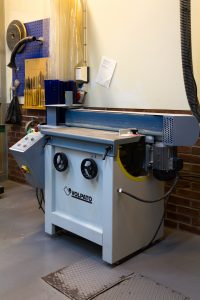 In order to trim to both external surfaces and internal radii, you can use the these quite smoothly.
Disc Grinder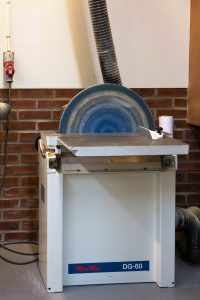 To fix the outside contours, this grinding machine is very easy to use.
---
For these machines there is no course for, however, they must not be used before the review and the go-ahead from a board member. Prerequisites are of course wood license.
Edge Milling Cutter
The Edge cutter can be used to create list outlines, phases, radii and limytor to name a few, it is very versatile and useful if you know how and what you can do.
Lathe
In the lathe you can do rotationally symmetrical stuff like bowls and candlesticks to name a few.